So, you want to work at EXPLO?
It's fun. It's demanding. It's inspiring (and exhausting).
Chances are: you'll love it.
---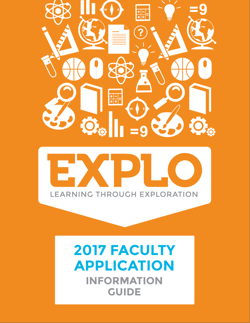 Faculty Application Guide
When you start your application, you'll be asked to download our 2017 Faculty Application Information Guide. The guide gives you important details about formatting and completing your application.
---
Rolling Application Deadline
As a reminder, EXPLO's first and second rounds of faculty hiring completed on Nov. 6 and Dec. 5, 2016. We continue to accept faculty applications on a rolling basis and encourage you to apply. An earlier application submission improves your chances of being considered.


"My time at EXPLO was without a doubt the most rewarding work experience I have ever had. Nowhere else could I have taught students from so many different countries the intricacies of running a business, and be so consumed in their personal success while also interacting with them outside of the classroom."
Zachary G., EXPLO Faculty