EXPLO: Where Learning Comes to Life
EXPLO was born in the halls of MIT in 1976. To this day, we continue to bring variety, innovative spirit, and a fusion of fun and learning to our programs. EXPLO has been part of 85,000 students' journeys as they find their strengths, discover new interests, and make lifelong friendships with peers from around the globe who expand their horizons.
Grades 8–10
Sarah Lawrence College, New York
High schoolers have an innate drive to try new things; but for them, the true reward is when they can experience them with others. EXPLO is where students entering grades 8–10 can come and explore without the pressure of trying to fit in or the fear that their interests — those ideas and subjects that move them and motivate them to explore — will be perceived as "uncool." Here, students pursue their strengths, discover new interests, and make friends who expand their horizons and embrace what makes them individuals.
Grades 10-12: Pre-College + Career
Colby College, Maine
EXPLO Pre-College + Career programs are an unparalleled opportunity for students to explore an academic major and career they are passionate about and engage in real-world projects alongside industry experts who can help them better understand what it means to work and thrive in their future career. Choose from eight in-demand concentrations and experience living and learning as a college student on an award-winning campus.
A Diverse and Vibrant Community of Smart and Curious Teens
EXPLO is a community that celebrates both individuality and the common ground that connects us: an insatiable curiosity to get out and explore. Here, you'll learn alongside peers from diverse backgrounds who expand your horizons — and make lifelong friends.
Let's get started...
Here are some of the details families find helpful when exploring our programs. Looking to learn even more? Fill out the form at the top of this page to Get Info, or chat with an Admission Team member.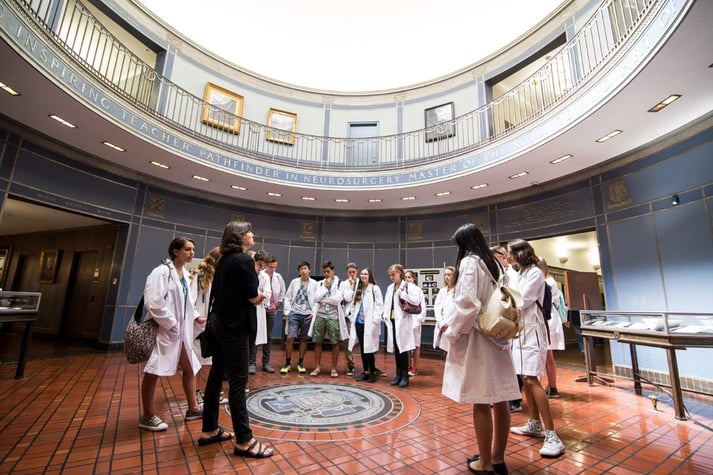 Lifelong exploration starts here
Some of the most ambitious and brilliant minds of our time have started their journey at EXPLO Summer Programs. Among their ranks are:
Kevin Systrom | Co-founder of Instagram
Eran Hodis, M.D | Discovered which gene mutations are among the most common across different cancers
Sarah Law | Founder + Designer of Kara Handbags, featured at NYC Fashion Week
Alexander Smith, Ph.D. | Used proprietary proteins to create Natural Power Units (NPUs)
Katie Stack Morgan, Ph.D. | NASA scientist who recently landed a robotic rover on Mars
COVID-19 Safety
Keeping students and staff safe is our top priority at EXPLO (and always has been). With extraordinarily strong partnerships with our host institutions, we are thrilled that we are able to confirm that we will be back in person and on campus at all of our EXPLO programs. Below are some of the common questions families have been asking. You can learn more on our COVID-19 Safety Page.
What kind of plan is EXPLO putting into place to protect students from COVID?
We will provide enrolled families more information closer to summer, but for now, we are anticipating the following:
Students must quarantine for five days prior to the start of the program
Three days prior to arriving on campus, students will need to have a PCR test; students will need to bring a negative test result to registration, along with a completed health screening form
Upon arrival on campus, we anticipate doing both an antigen test plus another PCR test
Masks will be required as will social distancing
COVID surveillance testing twice weekly
In addition to these measures, we are expanding EXPLO's dedicated 24/7 health centers to include both quarantine and isolation areas; dispersing and reducing the number of students and educators on campus by lowering enrollment; additional training for staff; limiting coming and going from campus; modifying the curriculum; implementing daily health assessments; and requiring enhanced sanitation and disinfecting of classrooms, public areas, athletic facilities, and restrooms. Finally, we are adjusting protocols and procedures — including how arrival day works, the first day of the program, how we approach meals, and robust on-campus programming if weekend trips are not possible.
We expect all students, families, and staff to take the EXPLO Health Pledge that acknowledges that, regarding keeping the entire community safe, individual choice and action will need to be subordinate to the common good.
What are EXPLO's Refund and Withdrawal Policies?
Enrolled families can get 100% of tuition back until May 1, 2021, for any reason.
We know that attending a residential summer program is a carefully-considered investment in your child's development. Therefore, we have made arrangements for families to purchase optional insurance to cover their investment at a very reasonable cost. This means you can enroll with little risk and with peace of mind. As one insurance expert has told us, "EXPLO leads the industry for insurance. Families cannot get better coverage than what EXPLO is offering. Period."
Both Massachusetts and New York have already approved overnight summer program operations, but should something change so that the programs cannot operate this summer, we will return all tuition (just as we did in 2020).
Will students and staff need to get tested for COVID before attending the program?
We will require students and staff to have PCR tests in the days leading up to coming to campus, followed by additional testing on campus. As we near summer, we'll be in contact with specific requirements.
Upon arrival at the program, students and staff will be required to take both a rapid test and a PCR test. We plan to administer additional COVID tests at least two times per week to all members of the community.
What kind of medical care is available on campus?
For decades, EXPLO has had dedicated health centers staffed with nurses and 24/7 coverage. This will continue this summer. Also, the on-campus health centers overseen by our partner physician's practices will expand this year to include areas for quarantining, isolation, and testing.
Will students and staff be required to wear masks?
Based on current recommendations, all members of the EXPLO community will need to wear masks. Upon the advice of our medical team, members of the community will be expected to wear disposable masks. Prior to the start of the program, we will notify families as to which types of disposable masks are acceptable and how many to bring. We'll have designated time throughout the day for students to take mask breaks. As we near the summer, we will be in contact with more specific requirements.
Will students be required to quarantine before arriving on campus?
Right now, recommendations from the Centers for Disease Control and Prevention, as well as state regulations, include quarantining for a period of time prior to travel. As such, we will require students and staff to quarantine before arriving on campus. We will continue to monitor information coming from the Centers for Disease Control and Prevention and the World Health Organization, recommendations from the Department of Health in the states where our programs are located, and state regulations. As this information evolves, we will update enrolled families with detailed Arrival/Departure information, including quarantine requirements, prior to the start of the program.
In order to help protect your investment in your child's summer program experience, EXPLO is offering a way for families to purchase program/travel protection. There are two optional plans available: a Student Deluxe Plan and a Student Deluxe + Cancel for Any Reason (CFAR) Plan. EXPLO tuition becomes non-refundable after certain deadlines, but these protection plans provide a variety of levels of coverage should you need to cancel your enrollment for a reason covered by the plan purchased.
For more details, submit the Request for Information form or contact an admission team member at 781.762.7400.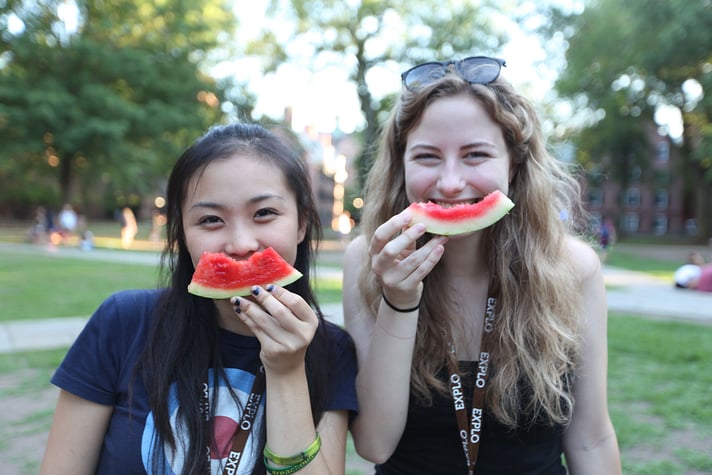 Contact us
Want to get in touch? Here's how you can reach us: