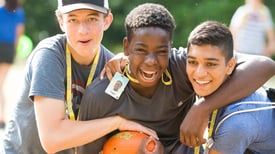 Above, we described the four pillars of a transformational summer experience. But how can you be sure a summer camp will provide them?
Besides these "big picture" characteristics, there are a few practical services that indicate a summer camp is committed to transforming the lives and minds of its students.
✓ Length of the Program
Transformation takes time. Popular psychology holds that it takes 21 days to establish a new habit. At EXPLO, we've discovered there's some truth to that.
As students enter their third week here, we see them turning a corner. Their confidence emerges, their friendships solidify, and agency takes a firmer hold.
✓ Local vs. Sleepaway
Overnight camps promote independence and a strong sense of community. But if you and your teen choose an option closer to home, the summer can still be transformational.
Whichever you choose, local or sleepaway, the camp should make an effort to incorporate day students and overnight students equally into its community.
✓ How Is the Day Filled?
Many summer camps end their programming after dinner, allowing children free time to just explore the city around them. This can be fun for teens, but it's not necessarily safe or time well-spent.
A transformational summer camp will fill the entire day — morning to night — with high-quality, enjoyable programming while giving students the freedom to choose their path through the day.
✓ Faculty-to-Student Ratio
As you compare summer camps, be sure to compare faculty-to-student ratios, not staff-to-student ratios. Some camps will inflate their numbers by counting non-educational staff, such as custodians or bus drivers.
✓ Logistics
Getting to and from a camp can be stressful for a teen who is on their own. If your teen is flying in from far away, make sure the camp provides transportation to and from the airport and that someone remains at the airport until the plane is in the air. Flights can be canceled last minute and someone should be on hand to help your child plan their next move and, if need be, return to campus.
✓ How Is the Food?
The quality of the food may seem like an afterthought, but it's important to a child's summer camp experience. Meals are essential bonding experiences, and good food puts nervous teens at ease.
Be sure to ask if the camp will accommodate your teen's special dietary needs (like kosher or vegetarian or vegan) and if three meals a day is included in the tuition. Some programs may only cover two meals a day.
✓ Medical Care
Some camps outsource medical care — after hours, especially — to a clinic that's 10 or 15 minutes off campus. This can be an eternity when a child is in pain. It's also just far enough away that children may be reluctant to go because they don't want to cause a scene.
The presence of a 24/7 medical staff on campus can be reassuring to teens — and their parents. Also be sure the nurse's office stores and distributes medications, keeping your teen on track and their medications out of the hands of anyone else.
✓ Nonprofit vs. For-Profit
Who is running your teen's summer camp and what's in it for them? As private equity firms and big businesses snatch up summer camps and run them for a profit, it's important to know where your tuition investment is going. Non-profit educational organizations spend substantially more on professional development than for-profit organizations and companies.
✓ Financial Aid
A transformational summer camp experience may be more reachable than you think. If you're not sure about the cost of summer camp, many premiere camps offer financial aid. Be sure to ask how much financial aid is available and how you can qualify.